I have not yet read the work of today's interviewee, but I'm inspired by her story. Patty Fletcher is the author of Campbell's Rambles, a memoir about how she obtained her guide dog, Campbell. Learn more about this author's writing and her international publication that features work by blind and sighted writers from around the world.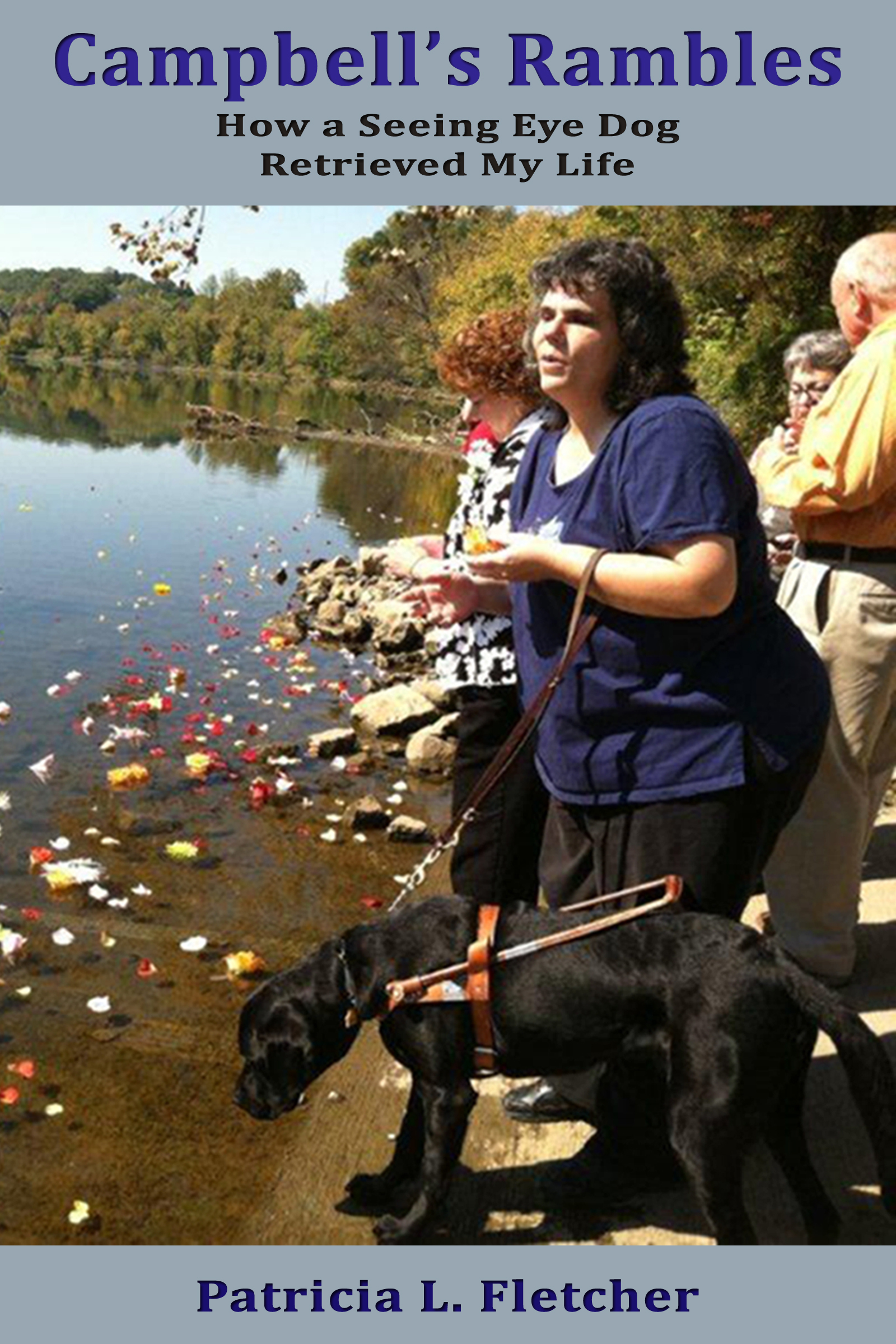 When did you first start writing?
I began to seriously write when I was in the sixth grade, and my parents bought me an electric typewriter for Christmas. I'd had a semester of typing by then because I attended the Tennessee School For the Blind and Physically Handicap in Nashville, TN at the time, and it was a required class. Their belief was this, "According to the sighted world at large you already have one strike against you, so your goal is to show them different any way you can."
I sat right down upon opening the gift, put in a sheet of paper from the pack that had come with it, and began to compose a short story. My mother had made chocolate covered coconut balls for Christmas that year, and I began to munch on one as I thought, and soon I was typing away. When I finished there was a crazy funny fictional story about a coconut ball that had been sprayed with chemicals from the nearby Eastman Chemical Company and had grown to a large size, come to life and was beginning to take over the town.
I knew right then that writing was something I wanted to do. I've never looked back. I wrote short stories for extra credit in English Lit any time I could and was always the one asked to tell stories at all the camp out trips I went on, and simply love all things writing.
What is your primary genre?
Although my first ever type written short story was one of fiction, my primary genre is nonfiction. I love to write about what I do. I love to write of my life, and all the awesome, terrifying, wonderful, and sometimes horrifying things around me.
What do you hope to communicate to your readers?
I want to make the reader feel what I feel, and see the way I do.
When I write my goal is to take the reader straight in to my experience. I want them to laugh with me, cry with me and feel my anger fear, joy, and sorrow.
I want them to know what it is to truly be me. I want them to know blindness and mental illness does not have to always be a sad way of life but holds many awesome adventures. Yes, sometimes they're frightening. Sometimes Campbell and I have the strangest calamities befall us, but we don't sweat them too hard, and usually before they're even over I'm already rolling a story round in my head and simply cannot wait to get back to my laptop to write it all down.
You also have a magazine called The Neighborhood News. Where did you come up with the idea, and what's the magazine about?
The Neighborhood News came to be after an editor of an online magazine I was writing for at the time, and I had a difference of opinion that led to an argument between the two of us during which she said to me rather nastily, "Well if you don't like how we do things, why don't you go create a magazine of your own?" I immediately stopped writing for her, and then with the assistance of my then book editor The Neighborhood News was born. It was a slow process, the title changed a couple of times, and the content as well. Finally, the editor I had then and I seemed to for whatever reason be growing apart, and after much discussion with and with support from a writing group I belonged to at the time, and due to the kindness of my now editor, Claire, The Neighborhood News began to evolve and grow. It is a monthly magazine filled with both advertisements, news worthy events concerning what the readers themselves are up to and literary submissions from folks both blind and sighted around the nation and world. Yes we even have readers in other countries.
The mission of The Neighborhood News? Simple!
I want to create a safe place for people to learn and grow together. A 'Neighborhood' if you will, of people who are connected but unique in their own way as well.
A place where I can not only share what I learn and know, but where the people living in 'Neighborhoods' all over the world can write in and talk about what they know, and what they're learning of, and doing as well.
Do you have any quirky writing habits?
Do I have quirky writing habits? Wow! Do I!
First off I write at the oddest times. I sometimes wake up to go to the bathroom in the middle of the night, a thought will cross my mind about a particular book I am working on, blog post, or an idea for The Neighborhood News, and next thing I know even if it is only an hour since I went off to bed, I'm up, making coffee, and writing away.
My other habit that some feel is quirky is that I do my very best writing off the cuff. My truest and best writing is done on impulse, with no plan forethought draft, nothing. Just sit down write it spell check it and it's done. People don't seem to understand how I can write so much at one time, but it's just my way.
I guess I do have a couple more weird things, one is, when I get extremely in to what I'm writing I tend to wrap the ends of my hair round my fingers while proof reading, and when I'm deeply involved with the writing process I hold my bottom lip in my teeth.
The man I occasionally keep time with says he knows when he sees me at the computer, and my hair is wrapped round the ends of my fingers, and my bottom lip is firmly held in my teeth, he has lost me for at least an hour or two, and lucky for him he respects it, because I do not like to be interrupted when I'm on a roll.
Do you keep a regular diary or journal?
Absolutely! The majority of my current book, Campbell's Rambles: How a Seeing Eye Dog Retrieved My Life* came straight out of a journal I kept while the events written of were going on, and almost all of my blog entries in Campbell's World are straight journalings. Nothing more nothing less. It's just my way.
Where's your favorite place to write?
I have two favorite places. The first is in my favorite chair in the living room. I am actually in it now. It is comfortable I can keep all the things I like to have with me easily to hand on a table next to me, and be involved with activity around me. I moved my desk in to the living room too, and if the room is filled with people sometimes I'll sit at my desk, with a document open and write about what's going on.
This however changes in summer. I have a porch swing, and I love nothing better on lazy summer evenings after the sun goes down, and folks get out on their front porches, and do what I call "Front Porch Sitting" to sit and listen to what's going on around me and write.
It is the best time ever in the world for me to simply curl up in the swing with my laptop Campbell stretched lazily at my feet, and write a few great chapters, or work on some article for The Neighborhood News.
Where's your favorite place to read?
I love to read while taking a long hot soak in the tub. I read mainly via audio books and so reading while in the tub is no hardship for me, just tap tap the BARD AP or Kindle AP and I'm on my way to other worlds.
If you had to choose one of your books to be adapted for film, which one would it be?
I have only one book published thus far, but if I could have it made in to a movie I'd be truly in ecstasy! I can't think of much else that would take me to that kind of level of happiness. I sometimes sit and try to figure out what actor I'd have play my Seeing Eye instructor, Drew Gibbon. I have to smile just writing it. I dream of it often.
If you could spend one day in the life of one of your characters, who would it be and why?
If I could be one of the characters in my book I'd have to be Campbell. I'd really like to know what is in his mind. I'd like to know if what I believe to be is really so. He seems so very satisfied being a guide dog, but then again, he had no real choice, and other than his behavior and body language I haven't a clue how to know what is in his mind, but … Would I really want to?
He might think me the silliest lady on the planet, but somehow I don't think so. He really does come to life when the harness comes out and we are on our way out the door.
Still, I'd love to have his perspective on things.
*Legal Notes: THE SEEING EYE® and SEEING EYE® are registered trademarks of The Seeing Eye, Inc. See: www.SeeingEye.org

Patty L. Fletcher lives in Kingsport, TN, where she worked for nine years at CONTACT–CONCERN of Northeast Tennessee, Inc.  She now writes full time.
Her autobiographical book is Campbell's Rambles: How a Seeing Eye Dog Retrieved My Life (C 2014). There, she tells how she obtained her first guide dog from The Seeing Eye® in Morristown, NJ: what motivated her, the extensive training she had, and the good friends she made.
For more details about her and her book, including where to purchase the book in e-book or print format go to: www.dvorkin.com/pattyfletcher/
To see her blog and newly updated website go to http://campbellsworld.wordpress.com/